Workshop: GA4GH EDI Workshop
The EDI Advisory Group announced the launch of the Onboarding initiative, after a successful pilot program that paired four newcomers with four Work Stream Guides. Next, the team shared results from an EDI survey this year, which revealed that more than 50% of respondents were not as involved in GA4GH as they wanted to be. These individuals felt that a lack of time and support impeded their ability to engage with the community. With this in mind, the group held an interactive brainstorming session to determine the EDI Advisory Group's next project. The group decided that their efforts would be best geared towards developing a Work Stream Best Practices document.
See the GA4GH October Connect 2021 Meeting Report
Listen to the talk; watch the interaction!
Konopko M, Paglione L, Hobb A, EDI Advisory Group. (2021, October). EDI Workshop Notes. Presented at the 2021 GA4GH Connect Meeting, Virtual. https://docs.google.com/document/u/0/d/1OofUwuoQZqzvLEMrDgczTtfquMHdthCMslW9gYojL9U/mobilebasic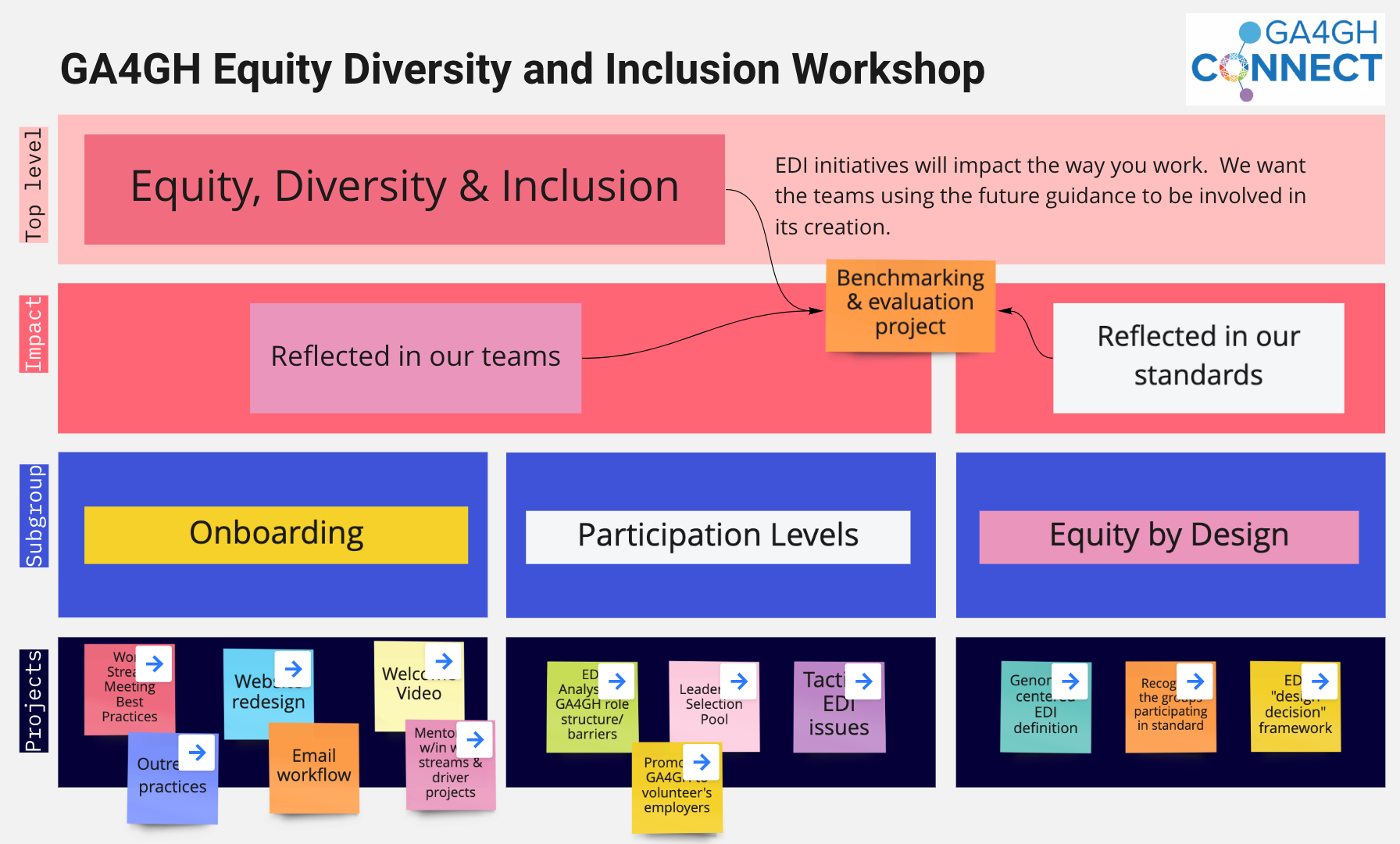 About My Involvement in GA4GH
I have been an active volunteer member of the Global Alliance for Genomic Health (GA4GH) since late 2018. This organization was established in 2013 to accelerate the potential of research and medicine to advance human health. Their approach is to bring together 500+ leading organizations working in healthcare, research, patient advocacy, life science, and information technology to create frameworks and standards to enable the responsible, voluntary, and secure sharing of genomic and health-related data.
I originally participated on behalf of ORCID as a member of the Data Use & Research Identities (DURI) Workstream which is writing standards to identify and verify the researchers that access genomics datasets. In 2019, I assumed the role as co-chair of the Equity, Diversity & Inclusion Advisory Group. This team is focused on ensuring diversity and inclusion among the volunteer membership the creates and contributes to GA4GH's standards and policies with the goal of ensuring global equity for the use of these standards.
In addition to leading the EDI work for the organization, I am a frequent speaker, writer, and contributor to GA4GH work, and serve on the GA4GH Steering Committee.