Connectedness in Virtual-land
Can a party restore our connectedness?
There is a colleague that I work with that I have the good fortune of talking with regularly. But the change in him since lockdowns, closings, stay at home orders and protests is notable. He doesn't dispute the necessity of these things, but it is clear that they are taking a toll on him. Being part of an international community, most of the people I work with on a daily basis rely on online communications as our primary way of getting things done. Many of us have been working from home for years. But lately, the conversations had through video don't seem to be rich enough. And, there is a heightened awareness that experiencing a moment with someone is more than hearing their voice and seeing their face. Instead, it includes experiencing the same warmth of the air, view from your seat, and recognition of a distraction. It got me thinking that there must be a way to make a video interaction more like those we have in person - for the technology to somehow fade away and be forgotten as we attend to more important things. And, I thought a good way to experiment with solutions would be to throw a party.
My first thought was Jackbox games. If you're not familiar with them, they are a bit like game show games where anyone participating can be one of the contestants, and the audience can help to determine the winner. They are truly social games that are custom made for enjoying across distances. I knew that these games would be fun to play with others, but when my family tried them out with another family, I found that they seemed to detract from the personal connection. All of the things that make them work - their structure, simple tasks, and controlled interactions - were in some ways the opposite of what would have happened if the other family came over to my house for dinner. They stood in the way of deepening our connection to each other even though we were having fun together.
What is the essence of a party?
This is when I enlisted three friends, Michele Widd, Shayna Atkinson, and Mira Taferner, to help think about this challenge more broadly. We set a concept statement:
Virtual Party Concept: An amazing party via video call that really gives a feeling of connectedness with the people, almost forgetting about the camera. Key objectives: Connectedness, presence, fun
We considered what happens during an in-person party - not only what activities are planned, but also the unplanned things like meeting someone new, or having a spontaneous conversation about something you couldn't have anticipated. We thought about the essence of a shared experience that is built not only on what we say, but also around our senses of what we see, hear, smell, and taste. What parts of this experience could be recreated when people are not in the same physical space? We also talked about a huge difference between an in-person party and the video gatherings that we had attended. Video gatherings tend to be single-threaded, while parties have a lot of different things going on at the same time. Even when video gatherings use multiple threads (like breakout rooms), the tools usually are designed to have the host in charge, the single person that orchestrates where everyone goes. We had never been to a video gathering where we got to choose what we did there. We decided this difference was perhaps the largest challenge to overcome.
The virtual party structure
After over a month of concept planning, we ended up with a multi-sensory, multi-track event where party-goers could decide where they want to go, and could even decide to do their own thing with whomever they chose in one of five "salons" that had their own video and audio conferencing in them. We had planned activities in five different party spaces: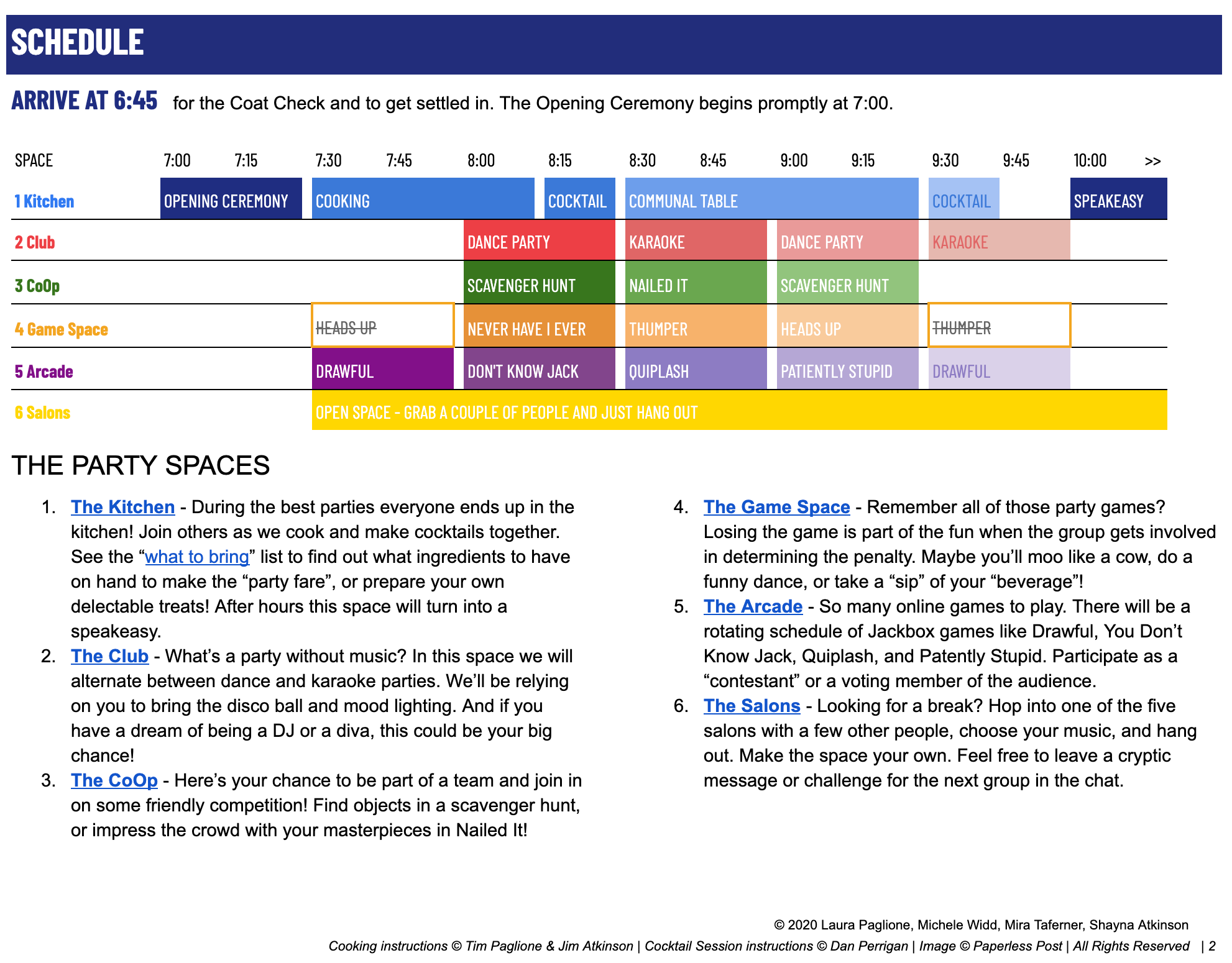 An important part of being at a party is that you can "feel" its size; you can tell from the way it sounds what areas might match your personality and interests; you can seek out a particular person to catch up with or share a joke. To capture this sense of "presence" we used a tool that represented individuals by avatars that moved between party spaces. Everyone could see where people were, and could tap someone on the virtual shoulder to have an independent conversation.
Technology, technology
Of course, the irony of trying to run an event where no one notices the technology is that we had to layer up on technology to make it disappear. We had 5 concurrent Zoom video conferencing sessions, some with breakout rooms for non-technical, team-based games like a scavenger hunt. Hosting had to be carefully orchestrated to ensure that we had a consistent space "vibe" and background soundscape. We used Pragli to indicate our presence and provide "quiet corners" for friends to chat when they wanted to take a break from more planned activities. We used Slack for party announcements, for example, to announce that a mixologist session was starting, or that someone was singing a great song in the karaoke room. We even recorded a video orientation to the technology and provided a 13-page guide to the activities and schedule. Hours of planning meetings, a 3-hour run of show meeting with party volunteers… In all, it was a significant undertaking. Of our 98 invited guests, we had 55 consider coming, and about 30 participate.
Mission accomplished
But, did we accomplish our ambitious goals set out by our concept statement? I'd say for a first try, we did pretty well. In survey responses, all participants have indicated that they had fun and would attend another party like this. Many reported meeting someone new and having an interesting conversation. While we had plenty of comments about the technology itself (the number one thing we'd adjust for future events), it didn't seem to get in the way of feeling connectedness. Probably the most cherished comment that we received is that attendees felt like they actually attended a "real" party.
We're looking forward to taking everything that we've learned and making our next try even better. Have you been to a unique video gathering? What made it great?